THINKING OF EXPLORING ANOTHER CULTURE?
DO YOU LOVE LOOKING AFTER CHILDREN?
MAYBE WORKING AS AN AU PAIR IS FOR YOU.
Many young adults (18 to 30 years) travel to Australia from all over the world as part of a cultural experience. Being an Au Pair is an ideal way to experience first-hand what it's like to live in Australia and experience a new culture. As an Au Pair lives with a host family and looks after their children, an Au Pair very much becomes part of the family.
And for a limited time, Niche AuPairs has teamed up with STA Travel to offer you some great travel deals. Contact them now to find out more.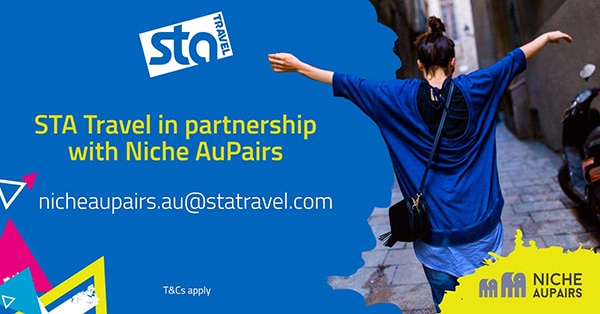 WHAT'S AU PAIRING ALL ABOUT?
An Au Pair lives with a host family and looks after their children and helps out with light house-keeping.  Au Pairs are provided with full board, all meals and weekly pocket money. Whether you've worked with children in a babysitting context, looked after younger siblings or family members or whether you have formal training and experience in childcare or teaching and would like to build on your skills, or you just simply love being and connect with children, this may be the perfect once in a life-time opportunity for you!
HOW CAN NICHE AU PAIRS HELP ME?
In short, we provide you with peace of mind. We understand that finding your ideal host family can be quite a daunting prospect! Niche Au Pairs works closely with each Au Pair (as well as each family) to find out exactly what they are looking for in their ideal role and family and help them find a match.  Finding out  what you really want to find out about a family and asking the right questions can be quite tricky – especially if this is your first time doing it! Having expert guidance makes it a great deal easier. When you speak with a family – you can just concentrate on whether you feel there is the right chemistry with the family! There is a range of websites providing prospective Au Pairs with access to a variety of host family profiles. Whilst this may provide you with quick access to many families, Niche Au Pairs believes there are many risks using this approach – namely, not being matched well with your chosen family. 
THE PROCESS
We start by understanding exactly what you are looking for
– we ask you to complete a simple form.  This covers a little bit about your background and your interests, any relevant experience that you have and why you would like to be an Au Pair.
We then arrange a time to speak with you about your profile, have a chat and get to know you! (via FaceTime or Skype, or in person if you've arrived already in Australia). We will discuss everything from your experience with children and what you like doing in your spare time, to what type of family you would like to be matched with and the role you would be happy to take on. All of this is crucial in establishing the right connection with your prospective family.
We do the search for you and save you a lot of time (and stress!)
– searching for your ideal family can be very time consuming and quite daunting. Based on the information you provide on the registration form and from our chat, Niche Au Pairs we will do the searching for you and present you with some options.
Niche Au Pairs provides you with peace of mind that the family profile presented through Niche Au Pairs matches up in reality. Every host contact is interviewed by one of our experienced Consultants and a detailed brief is taken; this covers everything from how many children they have and their ages, to what the family likes to do in their spare time, what they're looking for in an ideal Au Pair and the type of help that they need.
THE BENEFITS
We ensure host families are reference checked Your safety is of paramount importance. All host parents are required to provide Niche Au Pairs with photo ID, 2 references checks and police checks. We help you prepare for your placement Niche Au Pairs will provide you with information to help you get ready for your Au Pair placement. There's a few things to think about – flights, visa, insurance etc, so we make this part easier for you! Niche Au Pairs also provides every Au Pair with useful 'hints and tips' to help you settle in and to make the most of your experience. Support during your stay with your family Each Au Pair 2 to 3 weeks after your arrival to assist with settling in. Also for Au Pairs who have any queries or concerns during your stay, we're only a phone call away.
WHAT ARE MY RESPONSIBILITIES?
Once your placement is confirmed in writing, an Au Pair is responsible for the following:
1. Return flight to Australia
2. Working holiday visa.  Pre-requisites link: Visa information.
3. Police check and Working With Children (equivalent) from home country (e.g CRB in the UK)
4. Travel insurance (including repatriation and medical insurance).  Link:  Travel Insurance information.
5. A clean international driving licence. Link:  Driving with an overseas licence. 
6. On arriving in Australia, every Au Pair is requested to apply for a Working With Children check for the State or Territory where they are residing.
NO ASSOCIATED COSTS
There is no joining or service fee for Au Pairs. We will do all the work free of charge to place you. 
WHAT ARE MY HOST'S RESPONSIBILITIES?
What will my host provide? Niche Au Pairs recommends host families provide Au Pairs, as a base requirement, full board (a private room with the host family's home and all meals) with Wifi access and weekly pocket money. Every host family will provide a detailed outline of the role requirements in a job description. This will also include what is offered to the Au Pair, including pocket money.
HOW MUCH POCKET MONEY CAN I EARN?
Typically, an Au Pair will receive around $200 to $300 weekly pocket money for  around 25 to 30 hours work per week, with 2 days off each week. Au Pairs will also be given full board (own private room and all meals).
HOW DO I BEGIN MY SEARCH?
It's straight forward. To begin your search, register with Niche Au Pairs and complete your personal profile. Niche Au Pairs will contact you to arrange a time to discuss your profile and your expectations in more detail. We look forward to hearing from you.
Emily's experience
Q1 - What's it like being an Au Pair?
Go to 0 minutes 9 seconds
Q2 - Why would you recommend Niche Au Pairs?
Go to 0 minute 58 seconds
Q3 - What do you like about being an Au Pair?
Go to 1 minute 23 seconds
Q4 - How was the visa process?
Go to 2 minutes 2 seconds
Q5 - Would you recommend being an Au Pair?
Go to 3 minutes 08 seconds
Annie's experience
Q1 - What is a typical day like as an Au Pair?
Go to 0 minutes 0 seconds
Q2 - How have you personally developed from the experience?
Go to 1 minute 32 seconds
Q3 - What advice do you have for future Au Pairs?
Go to 2 minutes 49 seconds
Q4 - What are the costs involved?
Go to 5 minutes 8 seconds
Q5 - Would you recommend being an Au Pair?
Go to 5 minutes 38 seconds
Rosie's experience
Q1 - What are the costs involved?
Go to 0 minutes 0 seconds
Q2 - How to make the most of your time in Australia...
Go to 1 minute 15 seconds
Q3 - What to expect from the process...
Go to 1 minute 22 seconds
NEED MORE INFORMATION?
If you have other questions please get in contact with us using the form below.  
We'd love to hear from you!